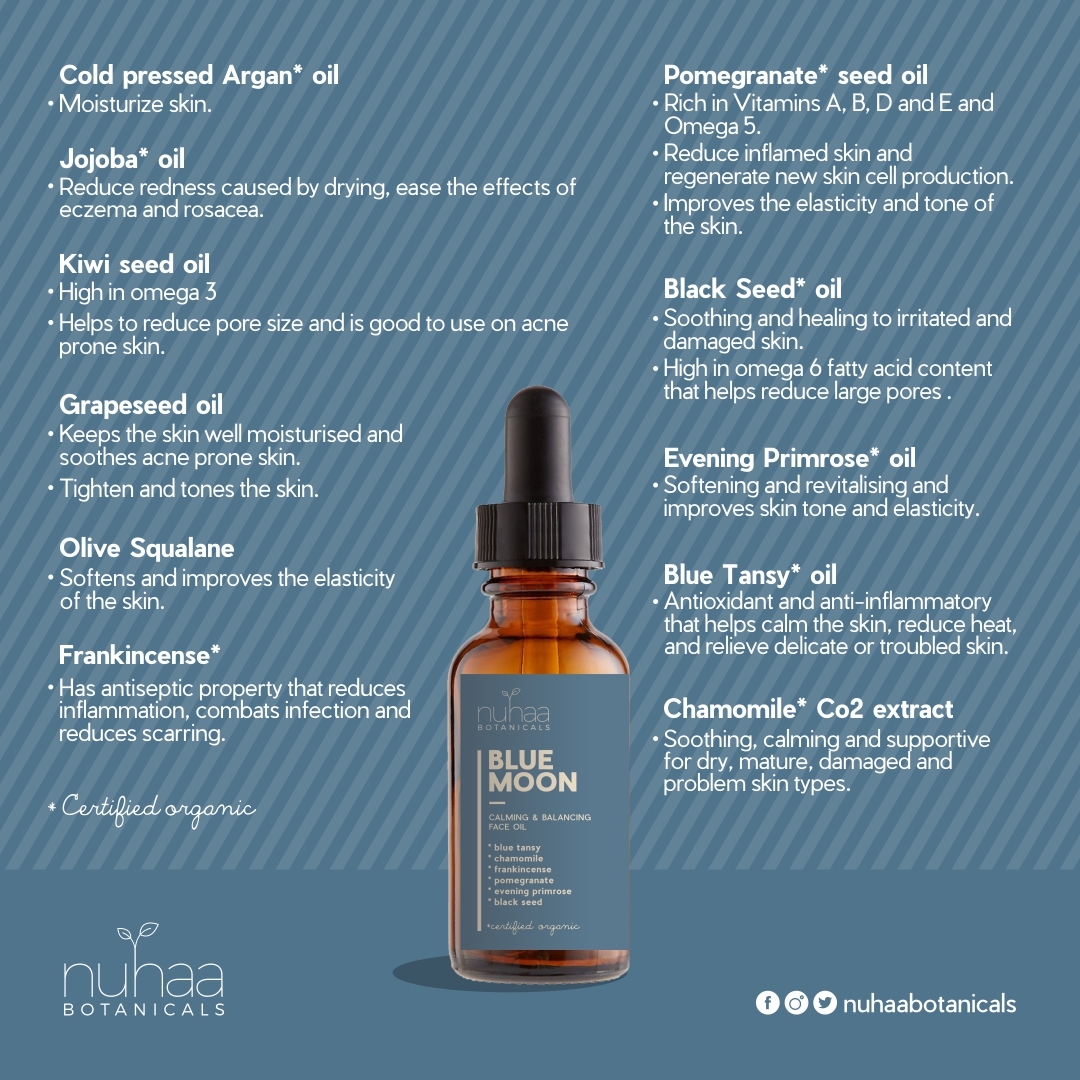 Blue Moon Balancing Face Oil
Blue Moon is a balancing Face Oil that is packed with premium oil and each ingredient is carefully picked for its benefits especially in balancing and soothing inflamed skin.
Cold pressed *Argan (Argania Spinosa) oil
- moisturize your skin, soften dry patches, and even reduce acne.
*Jojoba (Simondsia Chinensis) oil,
reduce redness caused by drying, ease the effects of eczema and rosacea
Kiwi (Actinidia Chinensis) seed oil,
-high in omega 3
- helps to reduce pore size and is good to use on acne prone skin
Grapeseed (Vitis Vinifera) oil
- Keeps the skin well moisturised and soothes acne prone skin
- tighten and tones the skin
Olive Squalane
-softens and improves the elasticity of the skin
*Pomegranate (Prunica Granatum) seed oil
-rich in Vitamins A, B D and E and Omega 5
-reduce inflamed skin and regenerate new skin cell production
-improving the elasticity and tone of the skin
*Black Seed (Nigella Sativa) oil
-Soothing and healing to irritated and damaged skin
-High in omega 6 fatty acid content that helps reduce large pores
*Evening Primrose (Oenothera Biennis) oil
-Softening and revitalising and improves skin tone and elasticity.
*Blue Tansy (Tanacetum Vulgare) oil
-antioxidant and anti-inflammatory that helps calm the skin, reduce heat, and relieve delicate or troubled skin.
*Frankincense (Boswellia Neglecta)
-has antiseptic property that reduces inflammation, combats infection and reduces scarring.
*Chamomile (Chamomilia Recutita) CO2 extract
-soothing, calming and supportive for dry, mature, damaged and problem skin types.